Written in Kansas – Interviews with Kansas Writers
Welcome! I'm Cheryl Unruh and this is a page for writers and for readers.
in the interviews below, you can read about the writing process of other writers, their struggles and joys, where they write, how they get ideas, and what they've written.
Writers interviewed here may not actually live within the Kansas borders, but they have lived in Kansas for part of their lives. Some of these writers you'll probably know, some will be new to you. Some have written for decades, some are relative newcomers. 
The writers I know are passionate about their craft, they're fun to be around, and they are incredibly supportive of each other. That is something to celebrate. 
I am so glad you stopped by! I plan to post at least one interview (maybe two) each week, so please visit often.
To contact me via email: WrittenInKansas <at> gmail <dot> com. Via snail mail: Cheryl Unruh, P.O. Box 1215, Emporia, KS 66801.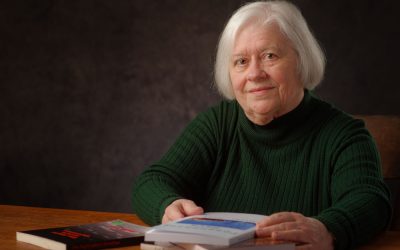 Hazel Hart is a novelist. She writes both historical and present-day fiction. Because she understands human nature, she creates characters a reader can believe in. One thing I love about Hazel is her dedication to writing. She's at her desk every morning...
read more