Meet Randy Attwood.
Hey, writers and readers – I'm so excited to start this series of interviews with Kansas writers! Thanks for joining us!
My very first interview for Writing in Kansas is Randy Attwood. Now Randy lives across the river in Missouri, but he spent formative years in Kansas and has written some about those days.
1) Hey, Randy. Tell us a little about yourself:
I'm pretty much a Kansan who now lives on the Missouri side of KC. My fiction output is a smorgasbord of genres: literary, thriller, mystery, science fiction (think quirky), and a comedy. If the writing of one of them grabs you, it's likely the others will, too. I have 11 novels and three collections of shorter works. Many of the shorter works are available as stand alones and have been published in anthologies. All together, there are 37 downloads on Amazon with my name on them.
2) If I remember right, you have a background as a journalist. Didn't you work for The Hutchinson News? Did anything about your experience as a journalist help develop your skills as a novelist – such as simply being used to sitting at a typewriter every day, or maybe getting ideas for fiction from the daily news stories?
I've been trying to write fiction since college. I took a creative writing class and a visiting author once was the Southern writer Reynolds Price. We were able to show him some of our work. I only had prose poems about weather to take and after he read them he said they were quite lovely, but that I needed to stop emulating Hemingway. He was right. However, I did emulate Hemingway by going into newspaper work. It was the best thing for me. Not only did I write news stories and features, I contributed editorials and a weekly column. Through this work I found my own writing voice.
The one comedy novel I wrote, "SPILL" took advantage of my knowledge of newsroom shenanigans, which I think I used to good advantage in that work where an atheist and failed English teacher scams the political system and gets the money, the girl, and a killer skateboarder compute game.
2) The book of yours that drew me in was "Crazy About You." In it you wrote about Larned State Hospital – which was about 10 miles away from my childhood home. For me as a child, the hospital was equally frightening and fascinating, and so I was eager to read that book. The setting felt so familiar and I loved the story.
How did Larned State Hospital influence you as a person, and as a writer? Have you used the hospital as a setting in any of your other books?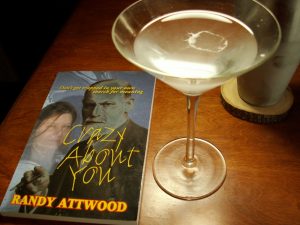 My father was a dentist and when I was in the ninth grade he took a job at Larned State Hospital, an insane asylum with 1,500 patients (or inmates, you chose). Part of the deal was free housing on 
the grounds three miles west of Larned. One of my first jobs was working in the dishwashing room at the cafeteria. "Write about what you know," they say. Using first person I created one week in the life of a high school boy that would present him with a series of events that will grow him up faster than he could have ever wanted. After the book came out (still my most downloaded work) I was offended when several readers asked me how much of it was real. Did they think I had no creative imagination and was "just a journalist?" Then I realized what a high compliment the question was. The writing had created a reality for the reader and that is the writer's (or at least this writer's) goal. Writing "Crazy About You" led me to a technique I've employed since: the character leaps from the present into the future and reflects back on that past.
In high school I thought I wanted to be a doctor and so I worked as the only male candy striper at the local general hospital. I learned enough to later work summers there as a nurse's aide. Fantastic experience and gave me some of the first stories I ever wrote. Those are available under the title "Hospital Days."
3) For me as a writer, language is what
gives me the writer's high. Language, playing with words, is the fun part for me. What keeps bringing you back to the keyboard? Is it that you have stories in your head that need to be told? Do you feel a need to create characters? In other words, what is it that excites you about writing?
I had no success in getting published. There were several times when frankly I gave up. I said, "Well, I don't have the talent. Why keep trying and just get rejected?" Then I realized I was more miserable not writing than writing and not getting published. There is something about writing a good sentence. It creates a music all its own that I think reverberates the way music does. I am also someone who shows a different side of himself to different people. I only feel united as a person when I'm at work on a fiction project. I don't want people to just read my work, I want them to climb inside and live there the way I do when I'm writing it.
4) What is the easiest thing about writing for you?
Nothing.
5) What is the worst thing or the hardest thing about writing?
I often get stuck. I've often given up on projects because I can't move them forward. I've put pieces away for years even decades and then gone back and finished them. The idea for "Rabbletown: Life in These United Christian States of Holy America" (my second-most downloaded work) came to me in the late 1970s. I had hoped to have it done by 1984. I didn't finish it until 2010. I have a novella, "One More Victim" that I consider my "Heart of Darkness" that took me 30 years to complete. SPILL I wrote in three months.
6) I believe you have a writing room/studio. Describe it if you wish. What do you love about it? Do you always write there? Do you write anywhere else – either in your house or elsewhere?
When the weather allows I like sitting in the backyard at a table under an umbrella. I like to go to coffee houses, the background noise is somehow helpful. After I retired, I spent several months finishing out a walk-in attic when I now sitting penning this reply. I've often said the writing is a matter of sitting in a room where your only companion is self-doubt.
7) What drink pairs with writing? 🙂
I've written sober, some of it good some of it bad. Ditto on booze. I like gin martinis. But right now I'm into a Manhattan phase.
8) Is there a place you go to for inspiration? Museum, parks, coffee shops?
My sources of inspiration are a mystery to me. An opening scene, the idea for a character will suddenly come to me so I'll set it to paper. Sometimes it goes nowhere or won't develop. I don't know the end of a story when I start it. I don't outline (though I'm about to give that a try since I'm having major writer's block on my current project).
9) Name an author whose work makes you want to write:
That's a toughie because there are so, so many. I have only tried to emulated one writer for a particular story: H.P. Lovecraft. I encountered him in high school and loved his style. I once completed a work of fiction, can't remember which, and wanted to write something in a completely different style. We had just moved into our KC house when several events occurred that sparked the idea for an HPL type story. "The Strange Case of James Kirkland Pilley" resulted. One reviewer said it "Out-Lovecrafted Lovecraft." High praise. If a reader is interested in that back story, it's on my blog. 
10) Of all of your books, which is your favorite, and why?
My standard answer is that they are all my children. But I still cry when I reread "Then and Now: The Harmony of the Instantaneous All," which is set in Lawrence during that tumultuous spring of 1970. Here again, I started that work when I was a KU student and didn't finish it until many years later. Things, fiction-wise, didn't come together for me until I was in my 40s and my 50s were pretty productive. "SPILL" still makes me laugh out loud. "One More Victim" is special to me. It took me 30 years to finish the poem that inspired the story and ends it.
11) Are you working on a book now?
Yes. The one I'm stalled on. I always liked John D. MacDonald's Travis McGee novels. I read and reread them not for the mystery story they contained but because I wanted to be around Travis again. I wanted to create that kind of character. Phillip McGuire is a burnt out foreign correspondent who returns to Lawrence to buy and run a bar and adventures come his way. "Tortured Truths" is the first and "Heart Chants" (which I think contains the best most compete retelling of the Navajo creation story available in fiction) is the second. I have the title for the third "Indigenous Clay" but I'm stuck and I don't know why. Maybe I should switch back to gin martinis.
12) Do you have a website, an author page? What is the best way for someone to learn more about your books?
Author page on Amazon serves as my website. 
I have a blog that I've been neglecting and it never elicited much a response. So I'm sort of stalled there, too. But it gives a lot of backstory information on many of my works, such as the one mentioned above. Randyattwood.blogspot.com
13) What haven't I covered in these questions? What else would you like readers to know about you or your books?
I'd like to share this reviewer's general comment on my fiction: "Each book by Attwood has shared one common thread–his gift for creating a cast of diverse and interesting characters, and then weaving their lives together in a plausible, realistic series of events toward the most unpredictable and so often amazing outcomes."
*** Order Randy's books at your local independent bookseller. Here in Emporia, Kansas, we shop and make our special book orders at ELLEN PLUMB'S CITY BOOKSTORE.  Some of Randy's books are only available on Kindle, and you can find them at this link. ***