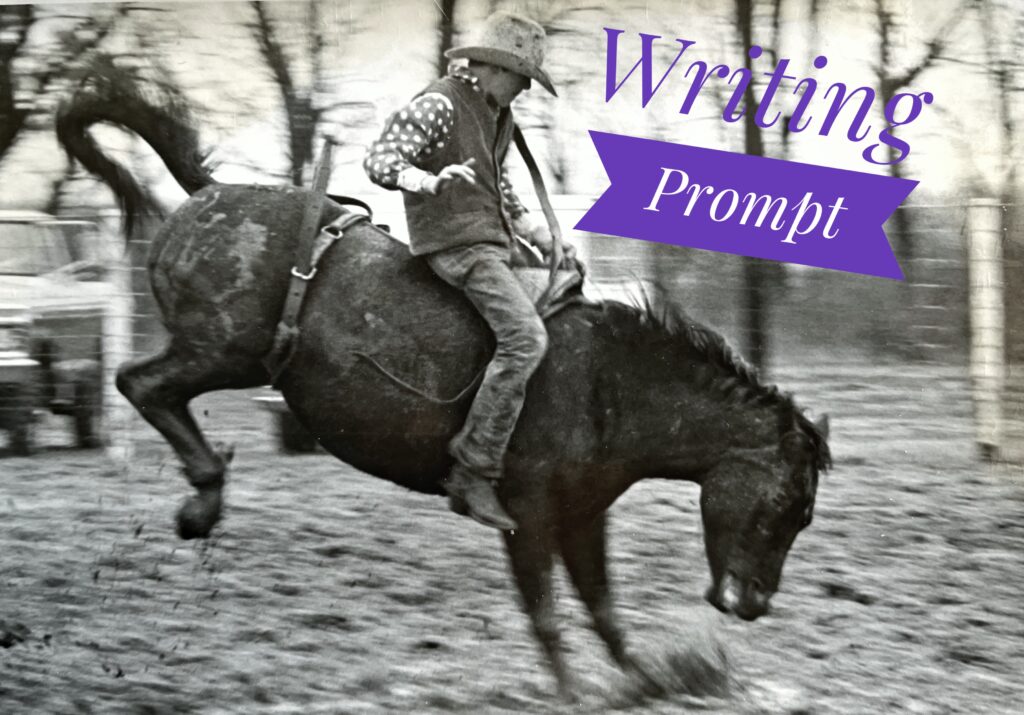 Writing Our Stories Day 8
Today let's think about activities we participated in, had a passion for, as a teen. 
No, that's not me in the rodeo – I was the photographer. 
Since my brother was my hero, and he was a photographer, I took up photography. Starting in junior high, I used the family's Brownie camera at football and basketball games. Then I got an Instamatic. 
In high school, when my brother got a new camera, I inherited his Ricoh 35 mm which became something of a permanent fixture around my neck. I stood on the football sidelines with  self-rolled Tri-X 400 in my camera. It was tricky shooting football at night with a telephoto lens, but what I lacked in light I tried to make up for in developing the film and the photos. 
After the football or basketball games, I went home to use my brother's darkroom. (He had left for college) and stayed up half the night developing photos. On Saturday morning, I took 5×7" photos with captions to the post office and mailed them to the Larned Tiller & Toiler newspaper and they printed them in Monday's paper. I got paid $5 a photo. 
So, that's one of my high school interests/activities.
What are your teenage interests and activities. 
Did you run track? Do the triple jump?
Were you a swimmer? A skateboarder? Soccer? 
How about music? Did you play piano or guitar?
What bands did you follow? 
Were you fascinated by cars?
Were you into Scouts or 4-H? 
Were you into baking cakes or pies? 
Did you study philosophy? Religion? 
Were you into drawing or painting? Sculpture? 
Did you sew your own clothes? 
Did you collect anything specific?
Were you obsessed with reading? Electronic games? 
What did you and your friends do when you got together?  
Write about something you loved doing as a teenager. 
Go get 'em!
Cheryl
#amwriting #writing #writingprompts #lifestories #Kansas #smalltownlife #memoir #writingmemoir #writingourstories #memoirwriting #howtowrite #writingtips
Follow me on facebook @flyoverpeople
Follow me on instagram @writteninkansas  
Blog: cherylunruh.com

—

Author of the new memoir, Gravedigger's Daughter: Vignettes from a Small Kansas Town, available at Meadowlark Books: https://bit.ly/3A82WRN